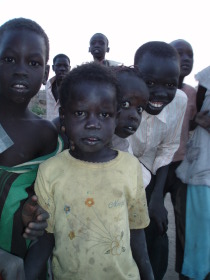 Timpir is a grassroots organisation that works to improve the lives of people in South Sudan through locally-developed and operated community development initiatives.
Timpir was formed in 2005 with a vision to work with the people of South Sudan and the global community to assist in the development of a region devastated by almost 40 years of recurrent civil war from the 1950s to 2005.
Timpir is run by a board of 10 volunteer directors who oversee the design, implementation and running of Timpir's projects in South Sudan. Working with local community members in South Sudan to identify, plan and implement projects is fundamental to Timpir's ethos, however Timpir relies on the financial and volunteer support of people around the globe to make these projects possible. The main objective of Timpir is to improve access for the people of South Sudan to basic education and health care through working with local communities.
---
Covid-19 has brought difficult times to villages in South Sudan, just like many places on earth. However, the challenges experienced seem to be unique to different locations. In South Sudan, the peak period of threats from Covid-19 have aligned with periods of famine and flood, meaning that people who were already living on the edge of poverty and suffering even more significantly. For the students and teachers at Timpir's two schools, face-to-face teaching had to stop back in April. While the teachers made some efforts at remote teaching, by writing out activities on paper particularly for the senior students in years 7 and 8 who will complete their primary school final examinations this year, this was made incredibly difficult by the fact that students do not have their own individual text books. There is certainly no access to zoom and online learning like students in many other parts of the world have been able to access. The Government attempted to making learning possible through radio programs, but again, not all students have access to radio and parents at home are frequently unable to support their children's learning due to low levels of formal schooling themselves.
There was an attempt to re-open the schools for the senior students in June, with measures in place for social distancing and hand-washing as best as possible. However, this was stopped by the local minister of education as the threat of spread of Covid was seen as too severe.
The teachers used some of the close down period to undertake maintenance on the school building such as re-thatching the school buildings. However, due to reductions in donations that donors in Australia have been giving to Timpir during this time, and the teachers not teaching full-time at the school, the Timpir board reached the difficult decision of paying the 16 teachers half their usual monthly salary for some of the period of lock down. This was a difficult decision as it coincided with the period of famine (before the new crops are ready and when all the sorghum crops from the previous season have already been eaten). As a result their was insufficient income for the teachers, their families and extended families who they support. There is no government support available to people who are unemployed or lose their jobs in South Sudan and those who are employed are frequently the only supports for many extended family members.
The schools are preparing to re-open next week after almost 6 months of lock down. The Covid situation has not escalated in South Sudan as some people had feared it would, but the coming months will be an anxious time for those who have very little access to information about the virus and no access to healthcare. The teachers have been busy this week clearing the weeds that have grown in the school compounds, but alongside this, some of them have also been displaced from their homes as a result of unusually high rain fall and resultant flooding. Below is the image of the house of Waramoth Principal Tong Ayei.
...

See More

See Less