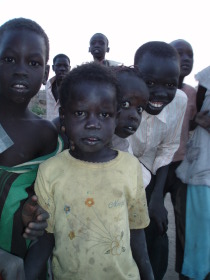 Timpir: Australians supporting health, education and development in South Sudan (hereafter referred to as Timpir) is a grassroots organisation that works to improve the lives of people in South Sudan through locally developed and operated community development initiatives.
Timpir was formed in 2004 with a vision to work with the people of South Sudan and the global community to assist in the development of a region devastated by almost 40 years of recurrent civil war from the 1950s to 2005.
South Sudan lags significantly behind the rest of the world in standard markers of development. For example, it is estimated that only 1.9% of children complete primary school and one out of every six children will die before their first birthday (Office of the UN Resident and Humanitarian Coordinator for the Sudan 2010).
Timpir was incorporated in Australia in 2005 under the name Panhom, this name was changed to 'Timpir: Australians supporting health, education and development in South Sudan' in 2007. Timpir is run by a board of 10 volunteer directors who oversee the design, implementation and running of Timpir's projects in South Sudan. Working with local community members in South Sudan to identify, plan and implement projects is fundamental to Timpir's ethos, however Timpir relies on the financial and volunteer support of people around the globe to make these projects possible. The main objective of Timpir is to improve access for the people of South Sudan to basic education and health care through working with local communities.
If you would like to make a donation to help us in establishing and furthering the projects of Timpir in South Sudan, please
Or send a cheque or money order to:
Timpir Donations,
PO Box 110,
Prospect,
South Australia 5082.
Or by direct deposit to:
Account name: Timpir Inc.
Bank: Bank SA
BSB: 105-141
Account number: 0373-28240
Follow Timpir on Twitter at @TimpirSS
Check out Timpir's Facebook page at https://www.facebook.com/pages/Timpir/185870498129701