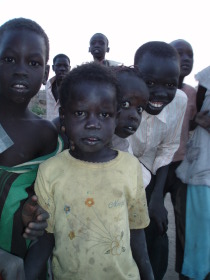 Timpir is a grassroots organisation that works to improve the lives of people in South Sudan through locally-developed and operated community development initiatives.
Timpir was formed in 2005 with a vision to work with the people of South Sudan and the global community to assist in the development of a region devastated by almost 40 years of recurrent civil war from the 1950s to 2005.
Timpir is run by a board of 10 volunteer directors who oversee the design, implementation and running of Timpir's projects in South Sudan. Working with local community members in South Sudan to identify, plan and implement projects is fundamental to Timpir's ethos, however Timpir relies on the financial and volunteer support of people around the globe to make these projects possible. The main objective of Timpir is to improve access for the people of South Sudan to basic education and health care through working with local communities.
---
After almost a year without school and formal education, students at Timpir's two schools in Waramoth and Mabok are back at school. Watch this short video to see just how happy the students and teachers are to be back! animoto.com/play/8nSWnGmxzziH3nfb9BJ6fw

Animoto makes video creation easy! Animoto's video maker turns your photos and video clips into professional videos in minutes. Fast and shockingly simple!
...

See More

See Less