Dr Melanie Baak — Chairperson, Founder and Public Officer
Mel has travelled extensively through African countries including Sudan, Kenya, Namibia, Botswana, Zimbabwe, Mozambique and South Africa. She spent time in both 2007 and 2008 living with her husband and his family and experiencing the challenges of living the subsistence lifestyle of South Sudan. She worked in a primary school in Kenya in 2005 for three months and with street children in a rehabilitation centre just outside of Nairobi. She has experience teaching primary school children in the New Arrivals Program for refugee and migrant students at Gilles Street Primary School and previously worked for Local Government developing programs to involve new arrival migrants and refugees in the community.
Mel has studied two and a half years of a Bachelor of Medicine and Surgery and graduated from the University of South Australia with a Bachelor of Education with Honours. She completed her Honours research project in 2007 researching the educational experiences of Sudanese students from refugee backgrounds in South Australia. She has completed a PhD at the University of South Australia, researching the experiences of belonging for Sudanese women through transitions they have made from Sudan to countries of initial asylum in Africa and finally to Australia. She plans to eventually move to South Sudan with her family to assist in the development of school curriculum and the building of schools and healthcare facilities in South Sudan.
Henry Kutek — Finance Director
Henry Kutek is a Chartered Professional Engineer who runs his own Forensic Engineering Consultancy. He grew up in Adelaide, Australia as the first Australian-born son of a refugee family fleeing northern Europe after WW2. He feels a great affinity for Sudanese refugees arriving in Australia and is active in assisting their resettlement. Henry has experience in the operation of community service organisations and is assisting the establishment and development of Timpir so that it can achieve its goals of providing assistance and support in developing acceptable standards of education, health, social justice and equity for the people of South Sudan.
Lynda Kutek — Fundraising Director
Henry and Lynda travelled to South Sudan in Jan 2008 and were able to meet many of the people who had been assisted by Timpir and to see the difference that that aid had made to their lives. They saw the original school and the conditions under which the people live while trying to rebuild their lives. They also saw how ignorance puts the lives of young children and babies at risk and how big a difference a little health knowledge can make to them.
They feel privileged to have been given the opportunity to help the people of South Sudan to recover from the civil war that has ruined the lives of so many and hindered the development of South Sudan to such a degree.
Leonie McLeod — Membership Director
Leonie joined the Timpir Board in 2012. In 1986 she was a member of Rotaract also attending the RYLA (Rotarian Youth Leadership Awards) as an awardee and returning the following 2 years as a leader. In 2004 she commenced working for the Mater Foundation – a non-profit organisation raising funds for the Mater Hospital. In 2008 she resigned dedicating and volunteering her time to her children's school (including President of the Music Support Group) and as a Director of her jointly owned business with her husband.
Leonie currently supports Timpir and the Rosie May Foundation, supporting and raising funds for these grass root organisations. In 2014 Leonie was a successful Trailwalker – walking the Brisbane Oxfam 100km trail walk in 29.27hrs. She dedicated her walk to Kuol Baak and the 'Lost Boys' of South Sudan, who at the age of 8 left his village and families walking in bare feet for approx 1,650km over 3 months from Wäramoth (Aweil, South Sudan) to Dimma (Ethiopia).
Kuɔl Baak — Wäramoth School Project Director
Kuɔl was born in South Sudan and escaped to Ethiopia in 1989 following conflict in South Sudan that began in 1982 and escalated in 1983. In Ethiopia, he was trained in the Sudan People's Liberation Movement/Army (SPLM/A) as a child soldier, graduating in August 1990. While in Ethiopia, Kuɔl attended Catholic Church and started learning Dinka literature. Following the collapse of Mengistu's administration, he fled Ethiopia and returned to South Sudan's conflict areas in 1991. Kuɔl was armed in Korcuei in 1991 and disarmed in Pakok in 1992. By July 1992, Kuɔl was among the 16,000 'lost boys' whose exodus to Kenya initiated Kakuma Refugee Camp.
Kuɔl completed his primary schooling within Kakuma Refugee Camp and went to secondary school in Kitale (under the merit based sponsorship of Jesuit Refugee Services) where he completed his secondary education (year 12) in 2001. In 2003, he was granted a Special Humanitarian Visa to resettle in Australia. In November 2008, Kuɔl completed a Bachelor of Urban and Regional Planning with Honours at the University of South Australia, and in 2009 moved to Port Pirie as a senior town planner.
Kuɔl taught and wrote Dinka literature in South Australia since 2004. He currently teaches high school students (yrs 8 – 12) at the School of Languages of South Australia. Kuɔl also manages a Dinka language blogging page. The page encourages all interested Dinka readers, writers and learners around the world to contribute. With its global reach, the page is a potential global virtual classroom where Dinka, also known as Thuɔŋjäŋ, can be learned and taught. This is a technological opportunity the language has never had since its formal reading, writing and learning was initiated in 1928 in Rajaf, South Sudan.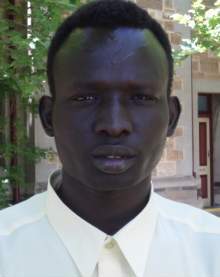 Gai Bol Deng Gai — Mabok School Project Director
Proin a fermentum purus, in sollicitudin libero. Maecenas tincidunt augue in lacus varius, ac ultricies orci commodo. Fusce pulvinar vel ipsum in pulvinar. Aliquam at pellentesque felis. Cras volutpat diam eget velit eleifend facilisis sed ac nulla. Donec commodo sollicitudin orci, quis elementum nisi sodales at. Nulla blandit tellus sit amet nulla viverra lacinia. Mauris ultrices urna libero, nec tempor felis hendrerit quis.
Nulla facilisi. Nulla lobortis nisl enim, eget aliquet justo interdum dictum. Duis fringilla, dolor at sollicitudin ultricies, libero erat eleifend est, sed vulputate urna eros non ligula. Integer sed auctor mi. Quisque nec consectetur justo, nec ultrices enim. Sed euismod, libero at malesuada ultricies, massa dui scelerisque lectus, nec luctus augue lorem in turpis. In aliquet metus quis ornare iaculis.
Peter Cassidy — Website Director
Peter is a Software Engineer and Manager, with a diverse portfolio of skills in data storage, real-time systems, simulation and website construction. Peter is extensively travelled and has seen first hand the vast differences in living conditions, health, education and empowerment between those in richer and poorer countries, and just as tellingly, between groups within a single country.
Peter first became aware of Timpir at a fundraising event in June 2005, when he was amazed by the level of organisation of a committed group of people, impressed by the efficiencies of a grassroots organisation, and excited about what it could achieve. He immediately joined Timpir, accepting the role of IT & website director.
Peter joined in the trip to South Sudan in 2012, saw first-hand the challenges that face the South Sudanese people, and is thankful that he could make a personal contribution to the health, education and well-being of the people of the area.
When not travelling, Peter can often be found rock climbing, flying gliders or playing volleyball.
David Summers — Board Member
David graduated with a Bachelor of Arts, majoring in English and History, from Flinders University in 2006. From 2006 – 2010, he was employed as a School Support Officer in Special Education and mainstream schools. He also worked as a Child Care Worker in Out of School Hours Care/Vacation Care and as a Personal Carer for people with disabilities.
In 2010, David completed a Bachelor of Education Studies, focusing on Special Education, at Flinders University. From 2010 – 2013, he was employed as a Service Coordinator at Disability SA in Port Lincoln, supporting people with disabilities to live independently and be a part of the community. In 2013, he was employed as a Supervisor at Orana Inc., supervising people with disabilities in supported employment. David is now working as a Facilitator in Individualised Funding at Disability SA in Adelaide, supporting individuals and families to manage their own government funding and supports.
Natasha Elsley — Board Member
Natasha is a GP working in refugee health and private general practice in Adelaide. She graduated from Adelaide University Medical School in 2005.
Natasha has always had an interest in international health and public health and was lucky enough to undertake placements in India, Arnhem Land and country South Australia during her medical studies. She hopes to be able to travel to South Sudan and other parts of Africa in the future.
Through her work at the Migrant Health Service and her experiences of disadvantaged communities in India and Arnhem Land, Natasha has discovered and noted the political and socioeconomic predictors of health and well being and the depth of inequality that exists in today's world.
Outside of work Natasha loves travelling and has particularly enjoyed visiting Nepal and South America.
Natasha feels passionately about access to health care as well as the role of education — and particularly educating women, as a path to improved quality of life for developing communities.
Being involved with Timpir is a privilege for Natasha.
Emily Duivesteyn — Board Member
Emily has a background working with Aboriginal and Torres Strait Islander people, refugee youth and children under the guardianship of the Minister in Adelaide. She graduated from James Cook University in 2015 with a Master of Public Health and Tropical Medicine and has undergraduate qualifications in education and psychology.
Emily is passionate about social justice and equality, child and adolescent health, addressing the social determinants of health and mental health. Emily was attracted to Timpir because of its strong focus on community participation and being able to make a direct contribution to communities in an area of significant disadvantage.
Other interests include exploring new and remote places, watching and interacting with wildlife, fishing, dancing, reading and camping. Emily is very excited about her first trip to Africa this year.
Ken Pfitzner — Board Member
DOB – 13th April 1949
One of 9 Children
Married wife – Robyn Stains Feb/1977
3 Children, 4 Grand Children
1966 – 1971 Apprentice Cabinet Maker
1971 – 1972 National Service – Field Medic Australian Army
1972 – 1974 World Travel – Southern & Central Africa, Worked UK, Europe, Asia
1975 – 2005 Own Business – Furniture Manufacture, Restoration, Reproductions
2000 – Present – Employed TAFESA Furnishing Lecturer, Marleston Campus
2005 Member/board member Timpir
Interests – All things Creative,
Outdoor activities,
Travel