All Timpir events from 2005 to 2015 summarised in one post.
Quiz Night 2015
Timpir's annual quiz night raising money to support our two schools and over 800 students in South Sudan is on again! Join our quizmaster Peter Cassidy for a fun and possibly even educational evening!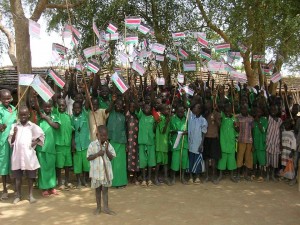 Where: Blackfriars Priory School, 17 Prospect Rd, Prospect, SA.
When: Saturday 17th October at 7:00pm.
Tickets are $15 per person, tables of 10. Small groups welcome — we have plenty of half-full tables you can join with.
Tea and coffee will be available. BYO food and drinks.
We would love you to help us celebrate at our Quiz Night, along with our very special guests all the way from South Sudan, Baak Kuol and Abuk Atak. You will get to hear first-hand from them how your support helps our schools. Baak and Abuk are the parents of Kuol Baak, our Waramoth School Project Director. This is the fourth time that Kuol has seen his parents since he was taken from his village at the age of twelve, it was 20 years later that he saw them for the first time.
Contact us via this site or call 0422 816 840 to book a table.
2014 Quiz Night
Timpir held its annual quiz night this year on Saturday 18th October at Blackfriars Priory School, Prospect. We had over 100 people attend for the evening as well as the Mayor of Prospect, Mr David O'Loughlin who promoted the work of Timpir. Thank you to all of the members and supporters of Timpir, as well as the board members, who assisted in organizing the quiz night and a special thanks to all who attended and donated. Over $3,500.00 was raised on the night, which is equivalent of two teacher salaries for twelve months. A great evening's entertainment and enjoyed by all.
It was held on:
6:30 for 7:00 pm
Saturday 18th October
at Blackfriars Priory School,
17 Prospect Rd Prospect
Ticket were $15 per person
See the Quiz Night 2014 flyer.
Peter says that the questions were definitely much easier this year!
Mandela — Timpir Fundraising Movie Event
On the 7th February we held our first event for the year: the movie event "Mandela: Long Walk to Freedom", at the Regal Cinema (formerly the Chelsea). The charity showing was the opening night of the film. The event was an outstanding success with over a hundred people enjoying the film.
Come along to our first event for the year: the movie event "Mandela: Long Walk to Freedom", showing at the Regal Cinema (formerly the Chelsea). Our charity showing is the opening night of the film. The ticket price includes food and drinks prior to the showing.
WHAT: Timpir MOVIE NIGHT… Mandela: Long Walk To Freedom
Friday 7th Feb 2014
Drinks & Nibbles from 6:15pm
Film Commences 7pm
Tickets — $20 adult, $17 concession
VENUE:
Regal Theatre (formerly the Chelsea)
275 Kensington Road
Kensington Park, SA 5068
CONTACT DETAILS:
Mel 0422 816840
See the flyer.
Don't forget you can book tickets in advance at http://www.trybooking.com/Booking/BookingEventSummary.aspx?eid=72032. The booking fee is only 75c.
Film Night — The Great Gatsby
2nd June 2013 at Norwood Cinemas. See the film night flyer.
Timpir Quiz Night 2013
Timpir held its annual quiz night on Saturday, 31st August and it was a great success!
We raised over $3800 to further the work of Timpir.
Saturday, 31st August, 2013, 7:30pm
Enfield Community Centre
540 Regency Rd
Enfield SA
7:00 for 7:30 start.
2013 Film Afternoon — Lincoln
A great afternoon at Norwood Hoyts learning about an important moment in history and raising over $600 for Timpir's projects.
2012 Timpir Quiz Night
Was held on Saturday, 4th August, 2012 and raised approximately $3600 for Timpir's projects. A massive thank you to Tim Smeaton who has been the quiz master for all of Timpir's quiz nights to-date, but this was sadly his last.
2012 Movie Night — Snow White and the Huntsman
A great film evening at Hoyts Norwood on June 22, 2012.
2011 Annual General Meeting
The 2011 Timpir AGM was held on 9th December. Thank you to all who attended.
Click on the link to read the 2011 Annual Report. (PDF, 338k)
2011 Quiz Night
Was held on:
Saturday, 27th August
7 for 7:30 pm
Enfield Community Centre
and was a great success. A great time was had by all and we raised over $2000.
Annual General Meeting 2010
2010 Annual Report (886k)
Sounds for Sudan Concert
Sunday February 15 saw three great bands, a group of Sudanese dancers and a crowd of 100 gather to raise money for Timpir. Golonka, Sezu Music and Emily Davis and Friends donated their time to provide a very appreciative audience with a wonderful afternoon of music and entertainment which raised over $1000 for Timpir.
Annual General Meeting 2009
2009 Annual Report (38k)
Ride2Learn
One of our Timpir supporters, Adam Starrs, rode his bike 2700km from Perth to Adelaide in September 2008. He completed the ride unaccompanied and carrying all of his own provisions. He raised an amazing $7000 to support Timpir in our efforts to improve access to education for people in South Sudan. The money raised by Adam will be spent on projects as outlined below, with the remaining $2200 being set aside for supporting Wäramoth Primary School in 2010.
| Item | Cost |
| --- | --- |
| Class rooms (x2) | $1200 |
| Stationery for additional classrooms | $800 |
| Teacher salary for 2009 | $1800 |
| Payment of four cooks for one year | $1000 |
| Total | $4800 |
Raffle 2008
Timpir's 2008 raffle raised over $700 for our projects in South Sudan. We had a range of fantastic prizes including a handmade quilt using fabrics from South Sudan and other African materials. Many thanks must go to Anita Paczek and Ellen van Wijk for the fantastic job they did making the quilt.
Annual General Meeting 2008
The Timpir 2008 AGM was held on 1st October 2008 at Radford Consulting, 427 Pulteney St, Adelaide. Please click here for a copy of the 2008 Annual Report.
Quiz Night 2008
Saturday evening on September 13th saw over 100 people attend Timpir's first Quiz night. This was a great fun evening with fantastic questions by quiz master Tim Smeaton. Keep your eyes open for details of this year's quiz night to be help in September 09. The quiz night raised approximately $2000 to support Timpir projects.
Movie Night 2008
Timpir's 2008 movie night was a huge success. Over 200 people attended on a chilly June night to watch 'Get Smart' at the Piccadilly Cinema. The movie night raised over $2300 for Timpir.
Movie Night 2007
Timpir's third major film event was held in August 2007, showing the recent Oscar award winning film, 'The Last King of Scotland' as well as a brief DVD detailing the implementation of Timpir's projects in South Sudan.
UniSA 2006 International Night
October 2006 saw Timpir take part in the UniSA Health Students International Night. This was the first time that there had been African representation at the event and we were warmly received by the 400 guests that took part in the event. We cooked up a storm with Lagemat (Sudanese style donuts) and many people tried their first ever taste of African food.
Sarafina! film event
Timpir's second movie event took place in July 2006. This time we started with a brief UN directed documentary about the return of South Sudanese refugees from Khartoum to South Sudan which served to educate our attendees. We followed with the enlightening movie 'Sarafina!' — a musical that dealt with issues of apartheid in South Africa.
African Music and Food Celebration
The Timpir African Music and Food Celebration took place in September 2005. This was an exciting blend of Sudanese talent in both cuisine and music. People who attended came away with full tummies and smiles on their faces from the music and dancing. The Celebration was a worthwhile event as it involved members of the local South Sudanese community and even featured two of our Board Members in the acts! Guests were taught how to dance "Sudanese style" by Timpir's Project Director, William Baak, and in no time the whole crowd was on its feet.
Multicultural Rugby Day
Timpir was present at the very successful multicultural rugby day at Woodville Rugby Club, which was organised by the New Arrivals Outreach Project. Timpir again held a very prosperous raffle and the day was a great success with rugby coaching, various games, clowns and other entertainment for the kids.
Hotel Rwanda film event
Timpir's first major fundraising event was the 'Hotel Rwanda' movie night in June 2005. The turnout was fantastic, the movie was relevant and the enthusiasm was inspiring. The movie night also included food and drinks, so people were able to mingle and chat about Timpir's cause, aims and objectives. A very successful raffle was carried out, with members returning satisfied with great prizes donated by many Timpir supporters.
African Festival 05
The South Australian African Festival in April of 2005 saw the launch of Timpir to the public. This was a busy day with over one hundred flyers explaining the situation in South Sudan being distributed to visitors.